How do you like my new look? It is a combination of the incredible designs of Dani Mogstad and Jacque Larsen and a new set of blog header templates that I put together! Let me tell you - Dani's new kit and alpha set - OMG - they are incredible! Soooooo cute!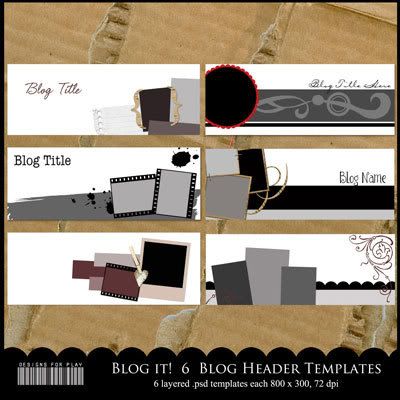 So, clearly I am terrible about updating the look of my blog. But, I wanted to do something fun for Halloween and one thing led to another and I designed these 6 blog headers. It as so easy and fun - I'll be creating new ones all the time!
You can purchase the header templates in my SBB store
her
e.
One of my CT members Biancka did an awesome header using the templates - check out her header here:

Biancka's blog is awesome! I will link you all up in a little bit when I am back from the Parent-Teacher conference. Aidan's 1st report card comes home today! :)
A little light humor for you all. I spent this morning high pressure cleaning my driveway. It was a real opportunity to be with my thoughts while I washed away the dirt on the driveway and the front of the house. The following realizations made me realize that I am addicted to digiscrapping and designing:
1) While pressure washing the driveway, I was wondering if I should take a picture and scrap the before/after process.
2) We have a welcome mat that has an interesting pattern of "holes" in it - I put it on the driveway and cleaned the driveway between the holes - wondering if there was a way I could turn that pattern into a brush.
3) Texture - lots of texture out there.
4) And then once a lot of the dirt was washed away - I found oil stains or other stains on the driveway and I thought about how cool they would look as a brush or element.
Yes, these are the profound (haha) thoughts of a digi-scrap addict with a few minutes of uninterrupted menial task work. :)
Thanks for stopping by! Have a great day and rest of your weekend! And - check back tomorrow - or at least go to Sweet Shoppe Designs and check out Dani's new kit - it is awesome!!
TTFN!