I've been scrapping! Last week I really felt like I was needing a break so I took a few days off from "work" and just scrapped and hung out with my family. It was great and soooo energizing. We went to the Zoo and to a favorite Pumpkin Patch. I'd like to say it generated tons of great photos - but it didn't! I did get one great photo of A and Z - or so I thought - when I looked at it a 2nd time - I realized that the tree behind Aidan makes it look like he has antlers! Great big antlers! Hopefully with a lot of cropping and some clone stamp work, I'll be able to minimize them.
I am so excited - this month I am Guest CT for Karah Fredericks. Karah is the owner and designer extraordinare at Blue Flombingo! It's been a blast so far and I've created a few layouts using her awesome designs already! Here's one:
I love the colors, alpha and "natural" elements in Karah's September Rain kit. In addition, I used her paper folds and the template that Karah is offering on her
blog
! Don't forget to run over there and enter Karah's sketch contest. Not only do you get the free sketch but you might also win a gift certificate to her store!
And yesterday I got a pm from Rachael Gaillongo at The Digi Shoppe asking me to be a Guest CT Member for the remainder of the year!!! Wooo hooo - template heaven! Rachael's templates are awesome! Here are 2 layouts I did last night and today using her templates!
Hint, hint!!! This fabulous template is available in Rachael's Grab Bag currently available at The Digi Shoppe. Isn't the kit awesome too?? It is titled "Autumn Mix" by LaWanna Desjardin at SBB. Great kit!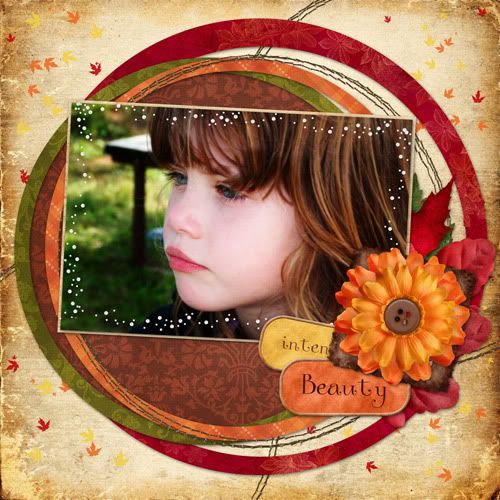 The layout above titled "Intense Beauty" is of Zoey pouting! But even pouting she is beautiful! I used Kristin Cronin-Barrow's wonderful Rustic Autumn kit and a template from Rachael's Round and Round Template pack. The stitching is from Dani Mogstad's "Imperfect Circles" element pack.
Okay - now I must really go to bed - it is very late! Thanks for stopping by! Please leave a comment and say "Hi!" Till tomorrow!!